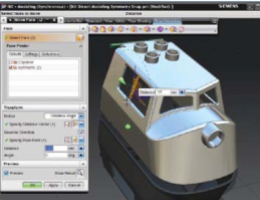 Seamless application integration rapidly propagates changes to product and associated process information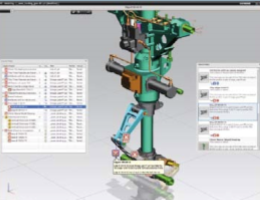 Integrated Simulation and Validation
Comprehensive simulation and validation tools check product performance and manufacturability throughout every step of product development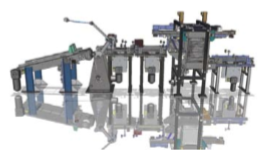 Knowledge-Driven Automation
Re-use of product and process knowledge across all elements and phases of product development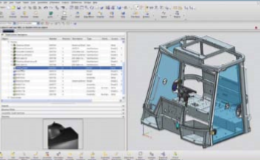 Engineering Process Management
Fully integrated, synchronized product data and process knowledge management
Tiers in the NX Mach Series
This entry-level solution provides capabilities for creating and editing designs of typical mechanical components and assemblies, with solid modeling and drafting, basic free form modeling and sheet metal design.
It includes tools for design review, rapid prototyping, web publishing, validation checking, the new Smart Content Library and custom program execution. It also adds design-oriented stress and vibration analysis wizards.
This solution delivers all the capabilities of NX Mach Designer, plus a managed environment powered by Teamcenter® software, with data management and visualization capabilities for product and process management.
Mach 2 provides enhanced product design capabilities, including flexible printed circuit board design, validation checking, user-defined features, rendering and 3D annotation.
Mach 3 provides the highest-performance solution with the entire range of NX design capabilities, including advanced assembly design and advanced free form modeling and surface analysis, design optimization and molded part validation.
Mach Series Tier Features
Advanced assembly modeling
Advanced free form modeling
Process-specific modeling tools
Product and data validation
Stress and vibration wizards
Knowledge fusion and custom wizard execution
Product and process management
Engineering process management
NX Mach Series Tools and Features
Process-Specific Modeling Tools
Provides a solids-based application that is focused on design for manufacturing of sheet metal parts. Users can create sheet metal component models using feature-based design tools for tabs, flanges and other typical features. They can define forming tables and bend sequence tables, and reform the solid model taking into account material deformation properties. The sheet metal tools generate accurate flat pattern data for downstream applications from solids, sheets and wireframe geometry.
Provides an environment that facilitates the design of both flexible and rigid printed circuits. Based on workflows common to the design of printed circuit boards, NX Flexible Printed Circuit Design helps designers model printed circuits rapidly and accurately in the context of an assembly and send the outlines to manufacturing or to an ECAD system for further refinement.
The printed circuit model developed in NX can be checked for clearances and tolerances, and then the finished board model can be transferred to an ECAD system for further refinement, such as component placement or circuit trace or layer development.
Includes tools to automate and streamline engineering drawing production. Drawings are associative to models, so model changes automatically update and are reflected in related drawings. Drafting capabilities include dimensioning, symbols, tabular notes, sheet layout and placement of standard orthographic and auxiliary views, automatic view creation from the 3D model, hidden line processing and automatic parts list generation.
Templates that include drawing borders and view layouts can be dragged and dropped into models to automate much of the work associated with manually created drawings. Drafting tools can be configured to comply with the drawing standard selected by the user – ANSI, ISO, JIS, DIN, GB and ESKD.
Allows an organization to store all manner of geometry, tolerance and dimensioning information directly within the 3D model, rather than on a 2D drawing. NX offers a 3D annotation tool that captures and associates product and manufacturing information (PMI) to the 3D model, and which complies with all the major concepts and requirements defined in the standard for 3D product definition (ASME Y14.41 and ISO 16792 TC 10).
PMI supports the creation of dimensions, tolerance features, weld and surface symbols, material specification notes, part identification labels and a number of other manufacturing and process-related annotation. Because the PMI is created in the 3D CAD model and directly associated to objects in the part, the information can be easily re-used by a number of downstream processes, from the 2D drawing to final article inspection and buyoff. Incorporating PMI during the design process can enhance and shorten the design cycle through better communication, fewer errors, streamlined design and manufacturing processes and faster change management.
Provides the integral component of any 3D annotation environment that supports the creation of standards-compliant GD&T symbology. PMI in NX provides GD&T 3D annotation tools to create datums, feature control frames and geometric dimensions and symbols that are compliant with industry tolerancing standards. The GD&T functions are contained in every PMI license.
Validates product designs with a model quality assurance checking utility, NX Check Mate, that evaluates parts, assemblies and drawings to check that:
Files comply with corporate data quality standards
Best practices for modeling and assemblies have been employed
Drawings comply with international standards and corporate documentation best practices
Poor quality geometric data imported from other systems is quickly uncovered and remedied before it becomes a larger problem (for example, mismatched edges, tiny gaps in faces and nonmanifold conditions common in lower-precision modeling tools).
Companies can use the validation checking results to establish product quality metrics and pre-emptively head off quality issues in the earliest stages of the development process.
Validation checks embedded in a design can also help notify a designer if the value of a model expression ever strays from within appropriate limits. These validation checks can be created on-the-fly or can be linked to external sources of design requirements, such as Excel spreadsheets.
Enables designers to check the draft of a part, even if they know virtually nothing about mold design. NX analyzes parts and automatically provides designers with information about draft angles, undercut areas, sharp corners, small radiuses, etc. It provides designers with an easy visual check of core and cavity sides that does not require any special analysis or knowledge of mold design.
By detecting errors early, designers can avoid the time-wasted back-and-forth that occurs when the tooling department or supplier discovers that a part can not be molded as designed.
Validation capabilities include:
Examining face properties with the ability to color faces for several conditions and types of analysis
Additional validation information for optimizing mold production and part manufacturability
Helps users understand which design parameters are really key to their design objectives. Users identify candidate variable design parameters and a design goal. The wizard then applies sensitivity and filtering tools together with engineering constraints to identify the more critical design parameters and then optimize them.
The step-by-step wizard provides design engineers with a method to ensure that their product designs are fully optimized to best meet their design goals. It also lets designers and engineers capture engineering requirements, automate the exploration of design alternatives and automatically identify optimized solutions.
Product and Process Management
Delivers a Teamcenter-powered foundational product data management system integrated with NX Mach Series 1, 2 and 3. It provides basic vaulting, file check-in/check-out and is an integral component of NX solutions. Engineering process management enables users to organize and protect all product data (models, drawings, associated documents), as well as to save time they spend searching for product data. It also helps design teams coordinate the work of team members.
Customers can extend NX Mach Series Design solutions with a selection of optional add-on modules. These add-ons enable customers to configure their design solutions to specific requirements such as specialized design tools, design-integrated simulation solutions, programming and customization toolkits, extended engineering process management and direct translators. Applications include:
Advanced and aerospace sheet metal
Simulation
Human modeling
Customization/automation
Automotive design
Tool design
Visual reporting and analytics
Direct translators for other CAD systems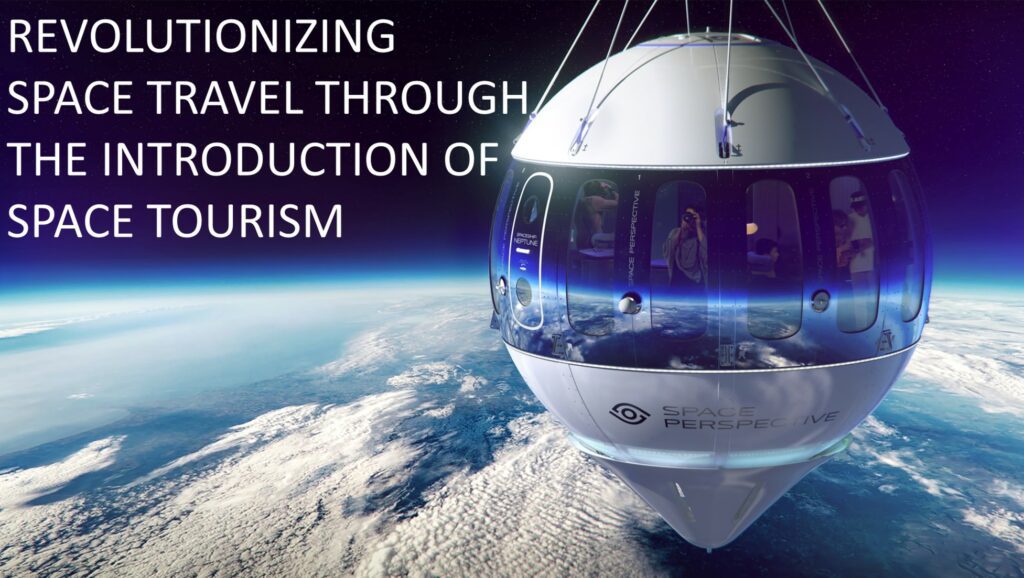 See how the world's first carbon-neutral spaceflight experience company is revolutionizing space travel.
Receive advanced support from engineers that use NX Design Mach Series every day.
SDA Software is more than a premier value added reseller of NX Design Mach Series. We employ award-winning engineers that use it every day as part of our professional consulting services. We have the capacity to provide advanced technical support and consulting services to our customers.
Our standard support is included when you purchase a product license or subscription (active maintenance):
Licensing and setup questions
Basic technical questions about software features and building models
Simple troubleshooting.
We understand that for particularly challenging issues more advanced support is required:
Detailed help building complex models (even production simulations)
Extensive troubleshooting, debugging, and testing of models
Custom consulting projects.
Advanced support isn't included with active maintenance.