To speed-up model creation time, Simcenter Amesim includes plug-and-play multiphysics libraries with more than 6,500+ components that are supported by robust platform features to empower design engineers and analysts rapidly create accurate representative system models. 
Simcenter Amesim is an open environment that facilitates the customization, automation, and integration for your vertical applications. It is simple for users to integrate it with the following applications:  
computer-aided engineering (CAE) 

 

computer-aided design (CAD)

 

Functional Mockup Interfaces (FMI)

 
co-simulations with Simcenter solutions 

 

Teamcenter

 

Excel spreadsheets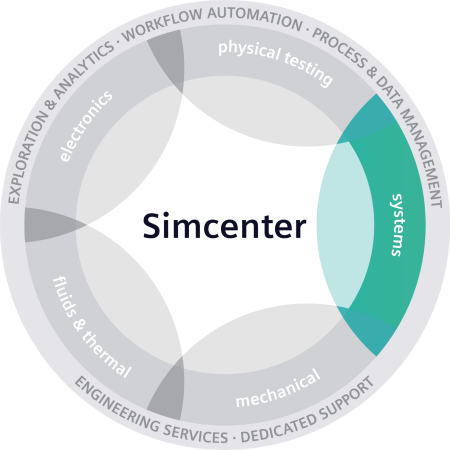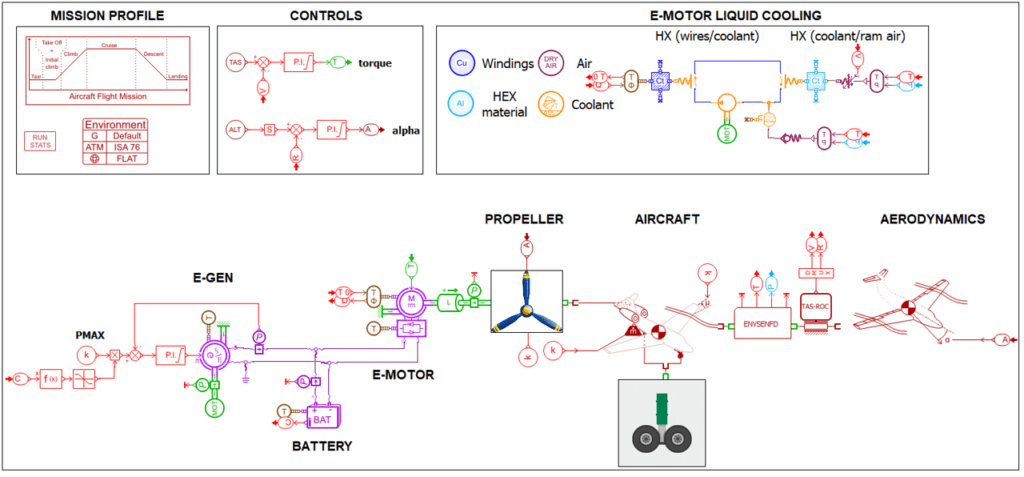 Simcenter Amesim Functionaly and Libraries
Creating simulation models from scratch is both time consuming and technically challenging. To reduce simulation setup time, Simcenter Amesim provides an extensive array of pre-assembled multiphysics libraries, comprising over 6,500 components built upon analytical representations of various physical phenomena. The libraries have been collaboratively developed and validated with industrial partners. This comprehensive range of components caters to both hardware and software modeling, empowering you to virtually assess control strategies right from the initial design stages.  

Electrical system simulation
Model and analyze electrical systems from conceptual design phase to control verification. Simcenter Amesim aids in enhancing the dynamic capabilities of mechatronic systems, evaluating energy usage, and developing and confirming regulatory principles for electrical apparatuses used in the automotive, aerospace, industrial machinery, marine, and heavy equipment sectors. 
Electrical libraries:
Electric Motors and Drives

 

Electric Storage

 

Electrical Basics

 

Electrical Static Conversion

 

Electrochemistry Components

 
Electromechanical

 

Fuel Cell Components

 

Automotive Electrics

 
Mechanical system simulation
Effectively handle the growing engineering intricacies of integrated mechanical systems with the help of Simcenter Amesim. It provides cutting-edge modeling techniques for conducting dynamic and multi-dimensional (1D, 2D, and 3D) calculations. This capability allows you to explore both rigid and flexible bodies, as well as complex non-linear frictions, while analyzing low- or high-frequency phenomena. Moreover, Simcenter Amesim considers the interplay between mechanical structures and electric or hydraulic motion, enabling a comprehensive study of the system.  
Mechanical libraries: 
Cams and Followers

 

1D, 2D, and 3D Mechanical

 

Vehicle Dynamics

 
Enhance the dynamic performance of hydraulic and pneumatic components while minimizing the need for physical prototypes. With a diverse selection of components, features, and application-specific tools, Simcenter Amesim enables you to simulate fluid systems for various applications, including mobile hydraulic actuation systems, powertrain systems, and aircraft fuel and environmental control systems. 
The inclusive collection of component libraries assists both infrequent and advanced users in analyzing fluid systems, spanning from functional to production models. The smooth integration among these libraries facilitates the design of diverse fluid systems and their seamless coupling with controls and other interconnected systems, all within a unified platform. 
Fluid libraries: 
Gas Mixture

 

Hydraulic Resistance

 

Hydraulic Component Design

 

Pneumatic

 

Filling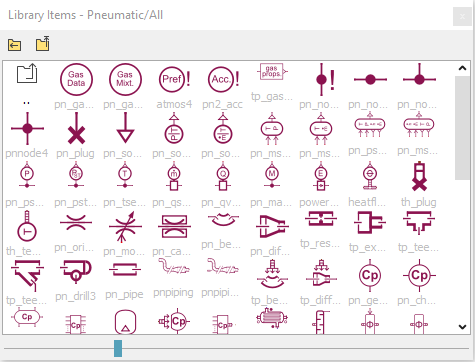 Thermal system simulation
Simcenter Amesim enables you to maximize thermal performance in various applications such as HVAC and cabin comfort, vehicle thermal management, environmental control systems, and other thermal systems. Its advanced post-processing capabilities allow for the graphical representation of energy flows within the system, facilitating the optimization of energy efficiency and the analysis of energy recovery system integration, influencing performance and energy consumption. The software also enables the representation of the real operating environment, including interactions with the surroundings, providing a comprehensive platform for designing and validating temperature control methods. 
Thermodynamic libraries: 
Air Conditioning

 

Cooling System

 

Engine Signal Generator

 

Heat Exchangers Assembly Tool

 

Thermal

 
Thermal Hydraulic

 

Moist Air

 

Two-Phase Flow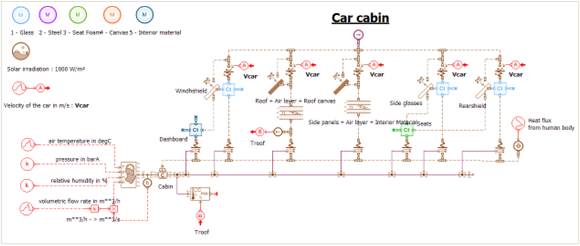 Propulsion system simulation
Embrace the versatility of multiphysics system simulation with Simcenter Amesim, which caters to a wide array of architectures and technologies. Whether it's powertrain electrification, reusable launch systems in the space industry, or the utilization of alternative fuels for marine applications, Simcenter Amesim's modeling capabilities are well-equipped to support these technology implementations. 
With Simcenter Amesim, you gain the ability to design and evaluate the impact of propulsion systems on various critical metrics, such as onboard power generation and vehicle pollutant emissions. This powerful platform enables comprehensive analysis of cross-system influences, all within a single, integrated environment. So, regardless of the complexity or diversity of your projects, Simcenter Amesim empowers you to confidently assess and optimize performance, ensuring successful implementation of cutting-edge technologies across diverse applications.  
Aerospace libraries:
Aeronautics

 

Aircraft Electrics

 

Aircraft Fuel Systems

 

Liquid Propulsion

 

Gas Turbine
Controls libraries:
Signal and Control

 

Engine signal and control

Internal Combustion Engine libraries:
CFD1D

 

IFP-Drive

 

IFP-Engine

 
Reduced-order model creation
Simcenter Amesim facilitates the generation of intuitive reduced-order models (ROM) through a user-friendly interface, incorporating state-of-the-art reduction techniques derived from machine learning, linear algebra, and statistics. These ROMs boast a compact memory footprint and are designed to be tool-agnostic, enabling their seamless integration across various applications. 
The reduced-order models can operate in real-time, serving as executable digital twins throughout all stages of the product lifecycle. This empowers users to make more informed decisions and achieve enhanced operational excellence. By leveraging Simcenter's ROM capabilities, you can efficiently optimize product performance and streamline processes, leading to improved outcomes and overall efficiency. 
Model Based System Engineering libraries:
Discrete Partitioning (add-on for hydraulic)

 

Generic Co-Simulation

 

Simulation

 

Marine

 
The Simcenter Amesim simulation client with git integration facilitates seamless collaboration among all members of the system simulation community. It empowers users with comprehensive management of simulation assets, enabling tasks such as branching, versioning, and role-based access control daily. Leveraging the client for git ensures meticulous tracking of dependencies, related content, and all pertinent data within the model, resulting in a precise representation of the system simulation domain. 
By deploying collaborative model development through this integrated solution, users benefit from optimized data transfers and advanced search algorithms, guaranteeing an efficient and smooth user experience. Embrace the most effective approach to collaborative model development, streamlining workflows and enhancing productivity with Simcenter Amesim's powerful git integration. 
Simcenter Amesim presents cutting-edge, open, and user-friendly multiphysics system simulation platforms, empowering users to model, execute, and analyze intricate systems and components. Its remarkable array of powerful features, analysis tools, and optimization capabilities are seamlessly integrated into advanced yet intuitive environments, ensuring highly efficient 1D multiphysics system simulation and robust design processes. 
Simcenter Amesim boasts seamless co-simulation interfacing with numerous 1D and 3D computer-aided engineering (CAE) solutions, streamlining the process of deriving and exporting models for standard real-time targets. It accomplishes this by providing a consistent and continuous framework for model-in-the-loop (MiL), software-in-the-loop (SiL), and hardware-in-the-loop (HiL) operations. With Simcenter Amesim, you can swiftly achieve your simulation goals while maintaining a user-friendly experience throughout the entire modeling and analysis journey. 
Simcenter Amesim facilitates connections to product lifecycle management (PLM) systems and geometrical data, enabling smooth co-simulations between 1D and 3D computer-aided engineering (CAE) tools. The software also supports design space exploration, model-based controls development, and facilitates interactions between different systems through the Functional Mockup Interface (FMI). This comprehensive integration empowers you to manage your system efficiently and optimally throughout its entire lifecycle, promoting seamless cooperation and innovation across the organization. 
Receive advanced support from engineers that use Simcenter Amesim every day.
SDA Software is more than a premier value added reseller of [Product]. We employ award winning engineers that use it every day as part of our professional consulting services. We have the capacity to provide advanced technical support and consulting services to our customers.
Our standard support is included when you purchase a product license or subscription (active maintenance).  This covers the following:
Licensing and setup questions
Basic technical questions about software features and building models
Simple troubleshooting.
We understand that for particularly challenging issues more advanced support is required.  For this, we also offer advanced support services, which include:
Detailed help building complex models (even production simulations)
Extensive troubleshooting, debugging, and testing of models
Custom consulting projects.
Advanced support is not included with active maintenance.
Ted Blowe is the Director of Engineering at SDA Software primarily working with STAR-CCM+. Before joining SDA Software, Ted worked as a Simulation Engineer for two years and a mechanical engineering for three years. At Orano, Ted was responsible for engineering analysis, mechanical design, and fabrication of equipment used in handling, transportation, and storage of radioactive materials. Ted received an M.S. in Mechanical Engineering from Texas A&M University, with a master's thesis investigated fluid dynamics and single-phase heat transfer characteristics for turbulent flows around nuclear fuel assemblies with complex split-type mixing vane grids using STAR-CCM+ CFD software.
Meet Ted Blowe, one of our expert engineers