 SDA Software recognizes the difficulties encountered by engineering companies and offers software solutions to assist them. Allow us to eliminate the obstacles in your path by enabling you to convert your challenges into a seamless solution. Our advanced multiphysics CFD bundle including Simcenter STAR-CCM+ is available at a significant discount, empowering you to achieve industry-leading results. Simcenter STAR-CCM+ is a multiphysics computational fluid dynamics (CFD) simulation software that enables CFD engineers to model complexity and explore the possibilities of products operating under real-world conditions.
Simcenter STAR-CCM+ Cloud Licensing
For preprocessing, meshing and post-processing
It has the following advantages:
Finite number of hours to use on an annual basis
Unlimited number of your cores you would like to use in each sim
Unlimited number of sessions
License administration is run remotely on a Siemens server via an internet connection
You manage your own keys – this allows your team to create, monitor, and set expiration criteria for each key you create based on the number of hours allowed in the license or date for each key
How does this cloud-based license work?
When a simulation is opened on your local machine for any reason, the system starts drawing from the pool of hours till the time the simulation is closed. This hour consumption is INDEPENDENT of the number of cores.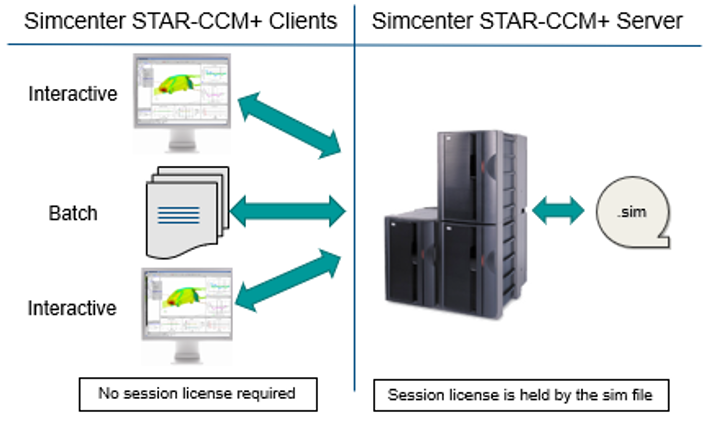 For example, 1 simulation run on 1 core VS 1 simulation run with 1000 cores both consume hours at the same rate. Also note that everything with the simulation (the interface, meshing, running, etc.) is still operating locally on your machine, the cloud licensing system is just used to check out the licensing from the Siemens servers.
Solve on AWS cloud infrastructure using Simcenter Cloud HPC​
Run CFD simulations on the cloud using AWS infrastructure
Configured and managed by Siemens, with no additional setup needed.
Running CFD simulations in the cloud provides enhanced flexibility and scalability compared to on-premise solutions. Utilizing third-party cloud providers demands substantial setup time and expertise. However, by employing Simcenter STAR-CCM+ on the cloud with Simcenter Cloud HPC*, users can effortlessly access AWS infrastructure, ensuring a seamless experience. A specified number of Credits will allow full use of Simcenter STAR-CCM+ on a fixed number of compute cores.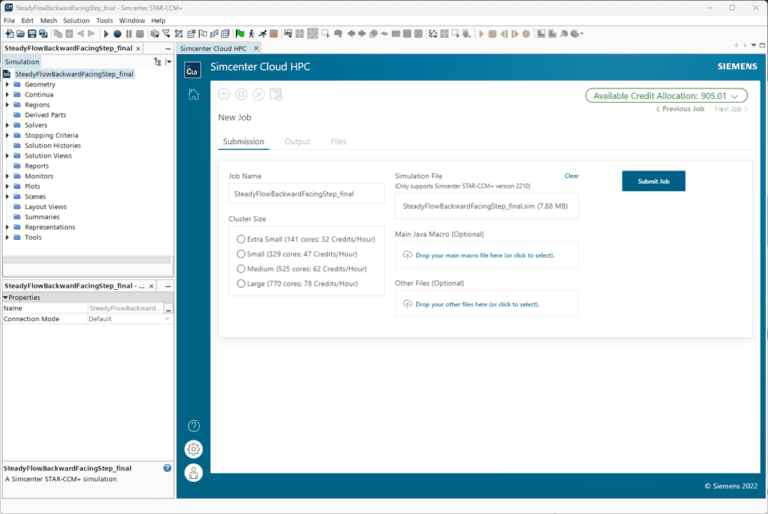 *Simcenter Cloud HPC only supports Simcenter STAR-CCM+ version 2210 mixed prevision. Mixed precision is fine for most CFD applications. Some applications where double precision should always be used include the following: aeroacoustics, battery modeling, electrodynamics simulations, and multiphase flows. Design manager and Co-simulation are not supported.
Effortlessly and securely engage in collaborative work with colleagues, partners, and customers
 Siemens' cutting-edge cloud-based collaboration solution, Xcelerator Share. Streamlining the process sharing simulation and model files, this software eliminates any obstacles that may hinder the search for effective solutions.  Access Xcelerator Share through the Siemens Mechanical Design portfolio.

Xcelerator Share offers an extensive range of collaborative functionalities:
Secure cloud storage
Desktop file syncing
Permission-based project sharing
Task management
Engineering-centric view and markup
Messaging and notifications
Any-device, instant-on access
Connection to Teamcenter
Receive advanced support from engineers that use SDA Software Advanced Multiphysics CFD Bundle every day.
SDA Software is more than a premier value added reseller of SDA Software Advanced Multiphysics CFD Bundle. We employ award-winning engineers that use it every day as part of our professional consulting services. We have the capacity to provide advanced technical support and consulting services to our customers.
Our standard support is included when you purchase a product license or subscription (active maintenance):
Licensing and setup questions
Basic technical questions about software features and building models
Simple troubleshooting.
We understand that for particularly challenging issues more advanced support is required:
Detailed help building complex models (even production simulations)
Extensive troubleshooting, debugging, and testing of models
Custom consulting projects.
Advanced support isn't included with active maintenance.
Meet Ted Blowe, one of our expert engineers
Ted Blowe is an CFD Application Engineer at SDA Software primarily working with STAR-CCM+. Before joining SDA Software, Ted worked as a Simulation Engineer for two years and a mechanical engineering for three years. At Orano, Ted was responsible for engineering analysis, mechanical design, and fabrication of equipment used in handling, transportation, and storage of radioactive materials. Ted received an M.S. in Mechanical Engineering from Texas A&M University, with a master's thesis investigated fluid dynamics and single-phase heat transfer characteristics for turbulent flows around nuclear fuel assemblies with complex split-type mixing vane grids using STAR-CCM+ CFD software.