Seeing Earth from the blackness of space – the quintessential astronaut experience – can be a truly profound and life-changing experience. Current space tourism offerings launch space tourists into orbit using rockets that expel carbon emissions. This model is quite expensive, difficult to scale and comes with negative environmental impacts. But a new tourism option is coming with Space Perspective – the world's first carbon-neutral spaceflight experience company.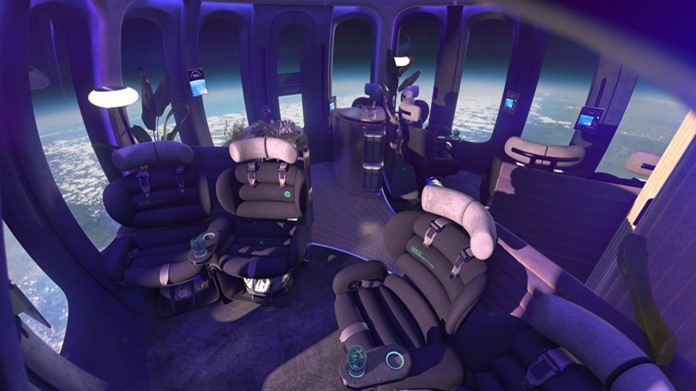 Designed to maximize accessibility, comfort and safety, Space Perspective's Spaceship Neptune is comprised of a SpaceBalloon™, pressurized capsule that accommodates eight Explorers and a Captain, and Reserve Descent System. The capsule is lifted gently by the renewable- hydrogen-powered SpaceBalloon™; it rises and descends over a six-hour flight at a slow 12 mph with no heavy g-forces. Unique to Space Perspective is that the entire spacecraft stays intact throughout the whole flight – our capsule never separates from our SpaceBalloon at any time. Furthermore, our Reserve Descent System, which sits between the capsule and our SpaceBalloon, can safely land the capsule at any time during the flight. Space Perspective plans to launch from both land and sea – its launch vessel, Marine Spaceport (MS) Voyager is the first marine spaceport for human spaceflight. They always land in water, which is the safest flightpath.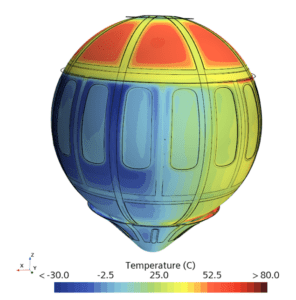 SDA Software is a trusted solutions partner for Space Perspective, providing Siemens simulation software solutions and front-line engineering support enabling a reduction in time-to-market and cost, while increasing quality. "SDA Software is a world-class vendor, solutions provider, and true partner in our mission to re-imagine space travel and make it more accessible to the world. The level of service, support, and expertise they provide has been critical to helping us accelerate our path to commercial operations," stated Royce Fernandes, a Thermal and Fluids Engineer for Space Perspective. Ted Blowe, SDA Software's Director of Engineering, provided Royce with extensive engineering support for the thermal sizing of the capsule and advisory recommendations for abstract engineering challenges. The result of this can be seen in the shown thermal Computational Fluid Dynamics (CFD) image of the capsule. 
Space Perspective's world-class facilities, including its 700-ft. Seely SpaceBalloon™ Factory, are headquartered near Kennedy Space Center at their Exploration Spaceport address on Florida's Space Coast. All capsule and SpaceBalloon manufacturing, laboratories, and operations centers are in-house. Here, Space Perspective's mission will be aided using SDA Software-provided NX-CAD, Fibersim, STAR-CCM+, and Simcenter 3D structures.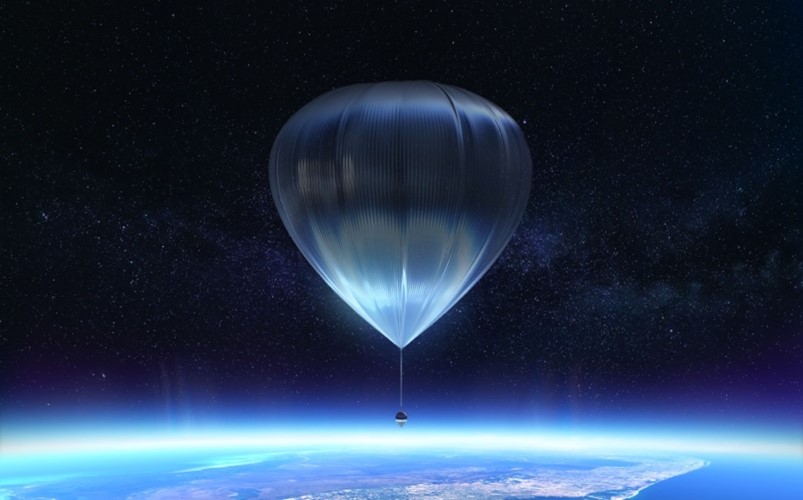 The project's design process can be attributed to NX-CAD, an open, flexible, and fully integrated product engineering software delivering fast and realistic conceptual design and modeling. Fibersim has been adopted for the design-build of the composite capsule due to its ability to quickly transition innovative design concepts to the manufacturing floor, especially those involving composite structures. The thermal sizing and CFD analysis can be accredited to STAR-CCM+, a multiphysics CFD simulation software used to emulate real-world conditions. Simcenter 3D structures is being used for the structural analysis portion because of its complex product performance evaluation and efficiency. Through the combination of Space Perspective's top-notch employees and SDA Software's provided software and front-line engineering support; Space Perspective, in partnership with SDA Software, is revolutionizing space travel.  
Receive advanced support from engineers that use Space Perspective every day.
SDA Software is more than a premier value added reseller of Space Perspective. We employ award-winning engineers that use it every day as part of our professional consulting services. We have the capacity to provide advanced technical support and consulting services to our customers.
Our standard support is included when you purchase a product license or subscription (active maintenance):
Licensing and setup questions
Basic technical questions about software features and building models
Simple troubleshooting.
We understand that for particularly challenging issues more advanced support is required:
Detailed help building complex models (even production simulations)
Extensive troubleshooting, debugging, and testing of models
Custom consulting projects.
Advanced support isn't included with active maintenance.
Meet Ted Blowe, one of our expert engineers
Ted Blowe is the Director of Engineering at SDA Software primarily working with STAR-CCM+. Before joining SDA Software, Ted worked as a Simulation Engineer for two years and a mechanical engineering for three years. At Orano, Ted was responsible for engineering analysis, mechanical design, and fabrication of equipment used in handling, transportation, and storage of radioactive materials. Ted received an M.S. in Mechanical Engineering from Texas A&M University, with a master's thesis investigated fluid dynamics and single-phase heat transfer characteristics for turbulent flows around nuclear fuel assemblies with complex split-type mixing vane grids using STAR-CCM+ CFD software.